Server Care website monitoring service
Server Care website monitoring service
Server care makes you feel confident your web-sites are always up and running. Our professional administrators will quickly resolve the issues on a best effort basis, even if you cannot submit a ticket to Technical support department.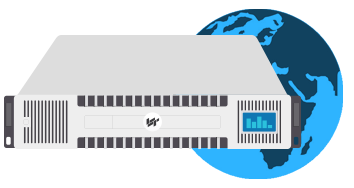 Best approach to your project's stability
Continuous monitoring. The service will check your site availability every 10 minutes. Administrators will be notified immediately in case your web-site fails.
On-the-fly support. Upon receiving a notification from the monitoring system, our specialists will start resolving the issue within seconds.
No reason to worry. We will inform you about the cause of the problem and send the report describing how we resolved it.
Say «No» to losing the clients
Server care includes:
Expend on one 2nd level domain.
Monitoring: every 10 minutes
Support incidents: 5.
Step 1

Go to BILLmanager → the "Server care"
module and order the service.

Step 2

Provide the site and server for monitoring.

Step 3

Excellent! Your site is securely protected.
Server care terms and conditions
If we need to discuss some actions regarding your web-site, ISPserver's specialists will call you or send an email to learn how you want the issue to be resolved, and resolve the problem.
If we cannot reach you, our administrators will try to solve the problem themselves. If the issue cannot be resolved without prior discussion with you, we have the right to suspend your service unless we receive a reply from you.
If your dedicated server, cloud hosting or server is suspended due to non-payment, the "Server care" service will be blocked unless your main service is activated.
In case of problems with equipment and channels, you will be notified through the Incidents system. The "Server care" service won't inform you about the downtime.