Fast servers for the faster work of your websites and web projects
- powered by the tenth generation Intel Core processor i9-10900K
- equipped with high-speed NVMe drives, 2-3 times faster than SSD
The platforms hosting High CPU servers use water cooling technology. It allows us to optimize the load and ensure stable processor operation at a high clock frequency up to 5.3 GHz.
Solve problems of any complexity
Speed up your web projects with a high processor frequency
Get maximum performance with Thermal Velocity Boost technology - up to 5.3 GHz on one core and up to 4.9 GHz on all others at the same time
Deploy large-scale resource-consuming projects
Thanks to fast NVMe drives and a productive Intel Core i9-10900K processor, the speed of page return will be high even during peak hours.
Manage resources during peak loads and load decline
Change your server resources depending on your project needs. Flexible configurations will allow you to choose the right capacity for any request
The High CPU
Faster than competitors
We use the next-generation i9-10900K 10-core processor with a frequency of up to 5.3 GHz.
Resource optimization
You can decide how much resources you need at the moment: increase the capacity before the peak hours and reduce it after.
24/7 Support
80% of requests are answered within 15 minutes. At any time of day and night.
Server configurator
Processor and memory
up to 5.3 GHz
2
GB of RAM
Server administration services are enabled
Server configuration by request
We can prepare the server for getting started: install the operating system, CMS, web environment.
Data migration from another provider
If you switch from another provider, we'll transfer your data and give you a 20% discount on any SSL certificate. If necessary, we can deploy a backup of your data to the server.
Other server administration tasks
If necessary, we can configure additional services for you: mail, DDoS protection, backups, and https protocol for data encryption.
ISPmanager Control Panel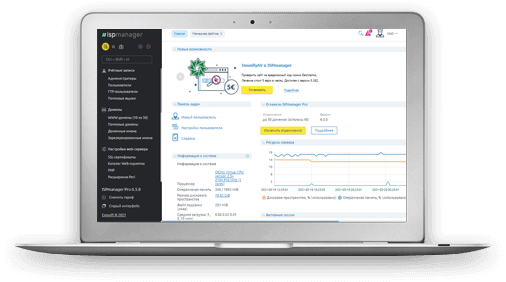 Enjoy your cloud server experience with the ISPmanager control panel, even if you're a beginner.
No command line knowledge required
Everything you need is available straight from the browser window: user and domain management, mail setup, backups creation, file upload, DNS, FTP, PHP, Databases and much more.
Learn more about the control panel
Install popular CMS in just 3 clicks
Install Wordpress, Joomla, Drupal and more in just 3 clicks, right from the control panel, and start creating a website.
Virus protection and removal
Website antivirus ImunifyAV (ex. Revisium, enabled in ISPmanager by default) find and clean malicious code automatically, with no impact on server's efficiency. Easy to activate and set up in the ISPmanager control panel. Module do not restrict the amount of checked websites.
Try for free and check High CPU speed
Check server performance with your project. Start with a 3-day test.
Configure Server
Do you have any questions?